HEU Leads the Development of China's First Highest Level HDP3 Dynamic Positioning System
data: Aug 29, 13
views: 1160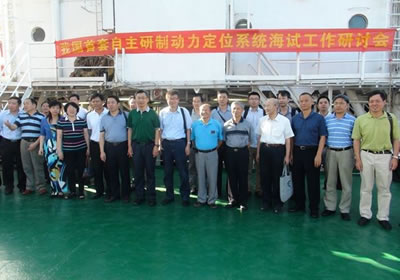 Recently, as a lead unit of the project and technical subject , HEU jointly cooperated with China Ocean Petroleum Engineering Stocking Co.,LTD and China Shipbuilding Industry Corporation Institute 708, independently developing the first set of dynamic positioning control system HDP3 which had passed through its voyage teat and FMEA in the sailing ship "offshore oil 299" and the test made by China Classification Society . The system got the marine product certificate. China to realize zero breakthrough in the field of dynamic positioning system dynamic positioning system of the highest level.
During sea trials, under the condition of the wind speed in 6 ~ 9 level and the ocean current speed above one knot, HDP3 system makes the ship position deviation less than 1 meter and heading deviation angle less than 1° ,. The accurate location of this system has reached the same advanced international level with other products of this kind.
On August 6th, twenty one experts form Ministry of Industry and Information Technology of China, Ministry of Communications, State Oceanic Administration, China Classification Society, China Ocean Petroleum Engineering Stocking Co.,LTD and China Shipbuilding Industry Corporation attended the sea trial seminar in Shenzhen. Vice president Xia Guihua attended the seminar. The participants affirmed the success of the project and discussed about the application prospection of HDP3 system.
It is reported that the domestic market need of DP3 can reach two billion RMB every year and the potential number of DP ship can be 200.At present, the domestic market of dynamic positioning system is monopolized by some foreign brands and among them Norway KONG SBERG is the biggest one. Although the HDP1 that HEU produced on the Mid-autumn festival had been put into use in sea-going salvage vessels and other ships of Ministry of Communications, the volume still occupied small share of overall market. In 2010, our school upgraded the technology and the dynamic positioning system HDP3 which is developed independently broke the foreign monopoly and promote the construction of Marine power with its technical advantage.