William Webster and XIA Guihua visit CIMC Raffles
data: Oct 31, 13
views: 1173
From October 29th to 31st 2013, a group of HEU representatives including William Webster (member of National Academy of Engineering), XIA Guihua (HEU's Vice President) and Prof. SUN Liping (Deputy Director of the Marine Engineering Center of Harbin Engineering University) visited CIMC Marine Engineering Research Institute and CIMC Raffles in Yantai. YU Ya (President of CIMC Raffles), WANG Jinghua (Vice President of CIMC Raffles), GAO Shang, TENG Yao (Deputy General Managers of CIMC Marine Engineering Research Institute) and HE Changhai (Technical Director of Research & Development Center of CIMC Raffles) met with the HEU representatives.
They exchanged ideas on strengthening cooperation with HEU in the field of marine engineering, and in the cultivation of the teams of engineering technologists. The hosts also accompanied HEU representatives to visit CIMC Marine Engineering Research Institute and the industrial plants of CIMC Raffles. During the visit, the hosts introduced CIMC Raffles' achievements and its leading role in the field of marine engineering. YU Ya expressed his hope that CIMC Raffles and the expert group of HEU could engage in a long-term cooperation.
William Webster and XIA Guihua acknowledged the accomplishments of CIMC Raffles in recent years, saying that as the leading university in marine engineering, the collaboration with corporations would greatly benefit the development of marine engineering and the application of research outcomes. They also pointed out that the collaboration would be supplementary and of mutual interest to both HEU and CIMC Raffles. Therefore, HEU would like to dedicate to promoting the two sides' exchange and cooperation.
After a thorough communication, the two parties reached consensus on a series of issues. On the morning of October 30th, YU Ya and XIA Guihua signed the Letter of Intent for Cooperation considering HEU setting up the Marine Engineering Research Center (Yantai).
In the afternoon of October 31st, William Webster gave an inspiring lecture for the staff of CIMC Raffles. YU Ya, WANG Jinghua and about 90 CIMC Raffles' technologists attended the lecture. When it finished, there was an active interaction between William Webster and the audience who shared their concerns on the problems at work. William Webster received a warm applaud for his excellent replies.
At the end, YU Ya gave William Webster a model of yacht produced by CIMC Raffles as a memorial and they took photos together.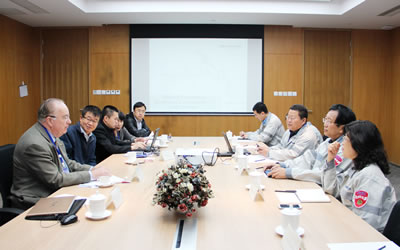 The two sides' are sharing ideas