Announcement of ICOTIP2021
data: Jul 05, 21
views: 1085
Qualification Trials of the 2nd Contest of Promoting BRICS Cooperation in Industrial Innovation (BRICSIIC) & 2021 International Challenge on Ocean Targets Intelligent Perception (ICOTIP)
July to September,2021 China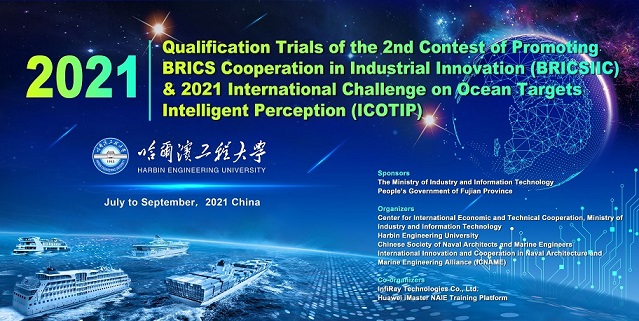 Announcement
Sponsored by the Ministry of Industry and Information Technology and the People's Government of Fujian Province, and undertaken by the Chinese Society of Naval Architect and Marine Engineers, International Innovation and Cooperation in Naval Architecture and Marine Engineering Alliance (ICNAME), and Harbin Engineering University, the Qualification Trials of the 2nd Contest of Promoting BRICS Cooperation in Industrial Innovation (BRICSIIC) & 2021 International Challenge on Ocean Targets Intelligent Perception (ICOTIP) will be held online in July, 2021. BRICSIIC consists of a series of contest tracks including ICOTIP. The ICOTIP is constituted of qualification trial and the final contest.
We sincerely invite outstanding young people all over the world to participate in this grand event, and to compete and communicate in this field. Through intelligent perception evaluation of marine targets, advanced algorithms and technologies will be discovered and a talent exchange platform for artificial intelligence and intelligent oceans will be built. Besides, by accelerating the development and application innovation of intelligent technologies in marine field, we will promote the sustainable development of human beings.
Ⅰ How to Participate
The ICOTIP will be held online. All contestants must be full-time university or college students and register for the contest as teams. Each team should have one instructor and no more than 3 students, including one student team leader. Cross-university team is allowed, but each student can only join one team.
Ⅱ Awards Setting
The participating teams will be awarded gold, silver, and bronze prizes. According to the results of the contest, the outstanding teams will qualify to the final.
Winners of the qualification trial will be awarded a certificate by ICOTIP. Winners of the final contest will be awarded a certificate by BRICSIIC.
Ⅲ Registration
For international teams, please log in to the website of the 2021 International Challenge on Ocean Targets Intelligent Perception (ICOTIP) (https://www.smartship.cn/?lang=en) to register and download rules and datasets. The registration system is available at 0:00 (GMT+8), June 22, 2021 to 24:00 (GMT+8), July 31, 2021.
Ⅳ Schedule
June 22 to July 15: Registration.
July 16 to July 29: Algorithms designing and programming with the open datasets, reports writing and video making.
July 30: Submitting the results of contest datasets, report and the video.
August 6: Announcement of the winners and final qualification.
Announcement of the winners of FINAL will be held online on September 6th. And the specific schedule will be announced later.
Ⅴ Documents required
Each team should provide a technical report and a video. The video should be a mp4 file with the resolution of 1280?20, and the frame rate above 20fps, and no more than 15 minutes, The video should include the proposed algorithm (9 minutes), team members' tasks introduction (3 minutes), the process of programming (1 minute), training with open datasets (1 minute) and contest dataset testing (1 minute). The technical report template can be download from the website (https://www.smartship.cn/?type=news&S_id=176), and the format of the submitted report is pdf.
For detailed rules, please see attachments. For other issues, please visit the website: https://www.smartship.cn/?lang=en
Ⅵ Contact information
ICOTIP Secretariat:
E-mail: ai_contest@hrbeu.edu.cn
Website: https://www.smartship.cn/?lang=en
2021 International Challenge on Ocean Targets Intelligent Perception
Organizing Committee
June 2021