702 Institute of CSIC: Pursuing the Dream of Marine Power
data: Nov 15, 13
views: 1182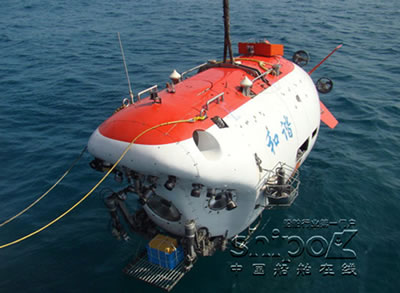 702 Institute of China Shipbuilding Industry Corporation (CSIC) has been reelected "Civilization Unit in Jiangsu Province" for six times and conferred on the honorary title "Central Ideological and Political Work Advanced Unit". Recently, it also received the title "Central Enterprises Advanced Collective" jointly granted by Human Resources and Social Security Ministry and State-owned Assets Supervision and Administration Commission of the State Council (SASAC). Though without a great view of sea, it achieved a series of major technological innovations, important breakthroughs and significant achievements in the aspects of marine equipment and green ship including the Jiaolong submersible, 985-type WIG and "the north 991" SWATH catamaran, because 702 Institute of CSIC harbors a dream of marine power.
Science and technology serve the country; the key is to grasp the "farness" and "depth". Staffs of 702 Institute are aware that they must emphasize on the practice of "farness" and "depth" in order to make the country truly become a maritime power. To realize this dream, 702 Institute must play its due role and perform its due obligations. Harboring the dream straight forward, 702 Institute conquers all the difficulties and hardships on the way. In 2012, The Jiaolong manned submersible developed by 702 Institute successfully penetrated undersea 7,000 meters, which created the world similar manned submersible dive depth record. And it successfully completed the first pilot applications expedition voyage in 2013; the development of manned submersibles of 4500 meters achieved significant progress; the first energy ship "Shang De Guo Sheng " has been excellently designed ; optimize energy efficient propeller design capacity has attained the world's advanced level, which has been widely used in a variety of ship types.
To create a "Chinese depth" depends on innovation-driven progress. Since the Jiaolong project, 702 Institute has carried out a large number of independent studies and technical research, and successfully implemented 16 key technologies breakthroughs including nonlinear hydrodynamic environment of space motion, unpowered dive float motion characteristics, pressure sphere of ultimate bearing capacity. And it also greatly achieved four innovational projects such as maximum working depth of 7000 meters, near the end of free navigation and hover positioning, high-speed underwater acoustic communications and high-capacity oil-filled silver-zinc batteries. The innovations above facilitate creating 7,062 meters deep diving record.
In June, The Jiaolong completed successfully its 102 days of the first pilot applications expedition voyage in the South China Sea, Northeast Pacific and Northwest Pacific. For the first time it carried scientists to dive to the seafloor for scientific expedition, which made a wealth of samples and audio data.
On the research journey, staffs of 702 Institute never stops pursuing the dream. With one and another scientific breakthrough, they are boosted to strive for the scientific peak. Recently, 702 Institute turns sights on more cutting-edge technology field closed to the national strategic development needs such as large offshore floating platforms. They assemble superior talents and technology to carry out a number of technical problems, and make great progress. Meanwhile, 702 Institute continues to strengthen independent innovation and promote the development of deep-sea equipment pedigree in order to build support for the mother ship to the water-based deep-sea submersible application system, including great depth of manned submersibles, cable controlled underwater robots, autonomous underwater robots. Recently, "Sea Kite" Ⅱ type remote autonomous underwater robots successfully completed diversion tunnel underwater exploration work; portable underwater glider developed independently by 702 Institute bid successfully in procurement projects.
702 Institute is brave to challenge the trend of "Green Storm." Faced with he rising of "Green Storm" in shipbuilding industry in recent years, 702 Institute positively follow and concentrate on the international shipbuilding market changes. 702 Institute carried out a large number of green Ship technology Research including the EEDI verification technology assessment study, Green Ship concept design and linear optimization, efficient energy-saving propellers optimization design, development of ship hydrodynamic energy-saving devices and application of new energy technologies.
To further promote the basic research of green ship and marine engineering, technology upgrading and industrial promotion, 702 Institute established National Energy Marine Engineering Equipment Research and Development Center, Jiangsu Marine Engineering and Ship Information Technology Industry Alliances and Jiangsu Marine Equipment Industrial Technology Cooperation Alliances .Green Ship Technology Key Laboratory of Jiangsu Province has been approved to run.
702 Institute facing the "Green Storm" developed ship hydrodynamics energy-saving devices, which has made significant achievements in overcoming technological difficulties. based on Decades of theoretical calculations and model test, 702 Institute organized backbone for the technical research, breaking key engineering technologies of ship hydrodynamic energy-saving devices application and making important progress in energy-saving devices optimization design, CFD performance prediction, model test, which converted research achievements of energy-saving device into direct application of physical products.
702 Institute has constructed product development system, which set Hull form optimization, Saving device design CFD performance prediction, model test, energy-saving products processing and real ship validation in one, developing saving-energy device for multiple hull ship such as 50,000-ton, 60,000-ton, 80,000-ton bulk cargo, 320,000 tons VLCC, and container ships. This device has become the new growth point in technology industry of 702 institute for it has gained more than 80 sets of extinction vortex fin orders and more than 20 sets of pre-pre-guide wheel and certain catheter with flow compensation orders.