HEU Collaborate Strategically with China Shipbuilding Heavy Industry Corporation
data: Oct 17, 13
views: 1164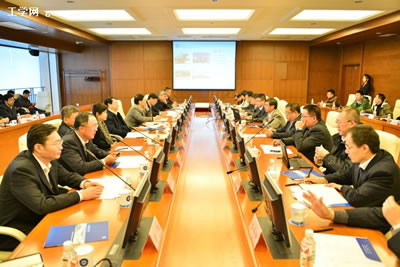 HEU has maintained long term cooperation with the leading enterprise State Shipbuilding Corporation in the industry, who is also the important partner of the Deep Ocean Engineering with High Technology synergy ship innovation center. Both sides made great achievements in the fields of product development, design and industrialization of Vessels and related products. For the implementation of the spirit of collaborative innovation and setting up the system of close integration of production, study,research and practice.On October 16th , both sides signed a strategic cooperation agreement in a VIP room of Qihang to further promote long-term strategic cooperation in the military, civilian technology and industrialization of science and technology, establish the mutually beneficial partnership and realize the complementary of advantages, mutual benefits and development.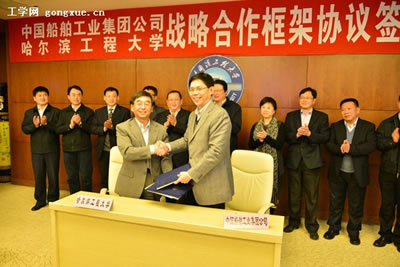 According to the agreement, first,the two parties will make full use of their own advantages and cooperate to do research and and integrate production, study,research and practice. Both parties picked up some key technologies and take the responsibilities of developing national marine engineering equipment, ships, acoustic design of the power and electrical equipment, engineering technology, information and control technology, new material and new energy and special technology. Second, the two sides will jointly invest capital and other innovative resources to the construction of the Power, electrical and mechanical research institute in China Shipbuilding Heavy Industry Corporation and push forward the key technological innovation and industrial development in the fields of ocean engineering power system and the key mechanical and electrical equipment. Third, the two sides will establish the mechanism of technical personnel communication and regular technical exchanges. Both sides will continue to deepen and expand cooperation through holding academic conferences and technical seminars. Besides, they will set up a joint working group surrounding the major project of joint research and development and industrialization of science and technology. What's more, they will employ the experts from the other side as visiting professors, technical advisers or special researchers.
Hu Wenming, Chairman of China Shipbuilding Heavy Industry Corporationn and party secretary, Wu Qiang, Deputy general manager and party member; The President Liu Zhigang, Vice president of Yang Desen and Xia Guihua attended the signing ceremony.
Yang Desen presided the meeting.
Xia Guihua introduced the current situation, characteristics and research results of HEU.
Liu Zhigang welcomed the arrival of hu asked sing a line. He said, China state shipbuilding corporation has a strong design and form a complete set of production capacity, stable and our school has the resources, scientific research ability good human and intellectual resources, the school will serve as a technical support unit to participate in the development of the enterprise, actively with the enterprise to establish a long-term and stable strategic cooperation mechanism, construct platform for cooperation, increase the content of the cooperation with coverage and provide support for the development of enterprise and industry, realize the integration development, and win-win development.