China's NWT Team held the first China-France International Symposium on Numerical Wave Tank for Exchange and Cooperation
data: Apr 09, 17
views: 1077
The first China-France International symposium on NWT for Exchange and Cooperation, jointly organized by HEU (Harbin Engineering University) and Ecole centrale de Nantes was held in Ecole centrale de Nantes on March 22nd to 23rd . The NWT team from China and the team from France have deepened their mutual exchange and cooperation over the meeting and made further efforts in promoting international NWT's research and development. Prof. Xia Guihua, director of management committee for NWT Innovation Project and Prof. Duan Wenyang, the chief architect of the project took the head ofChina's NWT team for the meeting and signed the Memorandum of Understanding.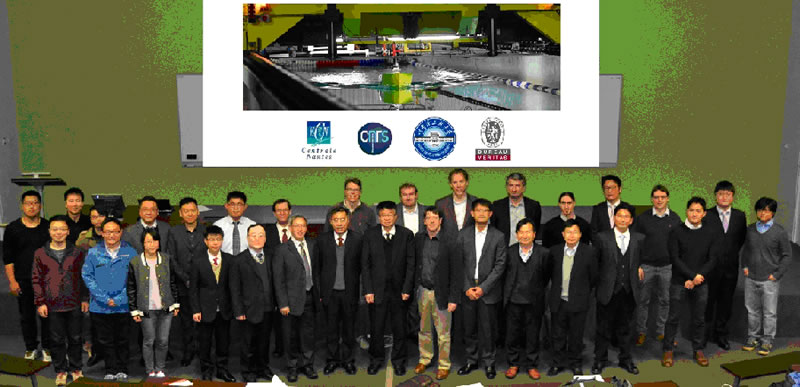 Prof. Pierre Ferrant from Ecole Centrale de Nantes presided over the meeting. Delegates from BV, Ecole centrale de Nantes, Hydrocean (BV group company) etc on French side and the counterparts from HEU(Harbin Engineering University), CSSRC(China Scientific Ship Research Center), MARIC(Marine Design and Research Institute of China ), Shanghai Jiaotong University and Dalian University of Technology etc representing China attended the meeting.

Prof. Pierre Ferrant delivered the welcome speech. He expressed his hope to promote deeper understanding on research and development of the project on both sides and to discuss further deepening the cooperation on NWT technology.
Prof. Xia Guihua delivered a speech on the opening ceremony. He pointed out that the symposium played an important role in sharing the latest results in the research work of NWT on an international level. In addition, it also contributed a lot in helping discussing modes of cooperation between two sides and pushing forward international NWT research work. The two sides should learn from each other, grow together and make joint efforts so as to apply NWT technology into practice in industry as quickly as possible.
Prof. Duan Wenyang made a general introduction ofChina's NWT Project. The two sides made further exchange on some specific technologies of NWT. Besides, they also discussed the mechanism of exchange and cooperation and signed the Memorandam of Understanding between them. Both sides have agreed to carry out further cooperation on the joint cultivation of talents, exchange of test database of physical models, verification of virtual tests, Classficication Society's vefication of virtual test system as well as pushing government to offer financial aids and support.